Hitwave Alison
Here's the hits of the week, kids:
1.  UNREAL not weather here all week. Low 30s.  So good.  Beat it Autumn.
2.  Candles.  Don't you just love 'em?  I try to light them every night with dinner.  I know, fancy.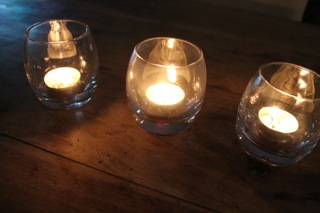 3.  Crownies (Now called Janet King)  is back on tv.  Ripper.  I've been wondering where it had gone.  Perfect for my Thursday night kick-back, after a big work day.  And whilst I'm on about good things on the ABC, don't forget The Moonies on Wednesday nights: Pisser.  Plus: another 'Agony' show is coming up: The Agony of Modern Manners, starting next Wednesday… Dunno if it will be any good, but it's worth watching just to hear Adam Zwar's dulcet voice-overs.
Just call me TV Week.
4.  Dan Sultan's letter about March in March.  Could I love that guy any MORE? (I swear he is singing Sorrowbound to me… Even though Nath says it is to him…)  Plus: he has a new album AND did Live at the Wireless last Friday.
5.  This. In here.  It's 9pm and I've just finished work, and I think I earned this today… A delish coldie whilst I write you this blog…
Happy Weekend to you all…  The Adult Ashers are off to the big smoke this weekend for dinner with a famous person… See you on the other side, and I'll tell you all about it…
….From The Ashers xx