Hitwave Alison
Here are the hits of the week:
1. The last day of school. Yay!! How good is the thought of long hot, Summer days stretching out in front of you? Man, I love this time of the year.
These dudes had a great year, finishing on a high.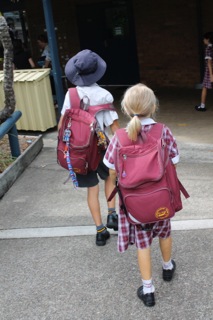 Liam's teacher got me aside and asked if I knew that he was "really smart"? Yeah, we kinda guessed after the time when he was almost four and he asked me how a rainbow was made, and after I gave a (might I say) grouse story about rainbow fairies painting the sky, he looked at me, deadpan and said, "Now what is it really?" I explained the Dispersion Effect and he said, "Why didn't you just tell me that? That is way cooler than some dumb paint fairies." I guess he has a point.
And Coco? Well she showed us all a thing or two about tenacity. The kid is currently hanging out for blood (we are trying to tough it out for another week or so: Tantrums R Us) and has a haemoglobin of around 65 (For reference: you are probably thrumming along with about 130 or so right now) and she had her swimming carnival this week. She has never swum 25 metres before, but in the carnival she did. Powered along. For about ten metres. Then somehow swam the rest of the lap. Came second last. Had to be lifted out of the pool sobbing with exhaustion like a limp little yellow jellyfish, amidst cheers from the other kids. Eric the Eel, you've got nuthin' on Coco Ricki Asher.
2. Oh yeah. Nath (legend) got me one o' these babies.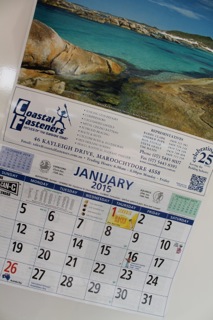 Imma be filling THAT thing out today.. After I gaze at its empty magnificence, full of potential, for a few minutes. Sorting the new calendar is one of my favourite end of year rituals.
3.  Talking of rituals, I started a new one this year. Got us a little jar and some tags, and instructed everyone to jot down things during the year. The jar is called "Cool Stuff that has happened."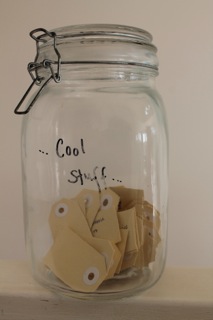 As you can see, the contents are a little meagre. I suspect that I may be the only one with any entries. I intended to open in on New Year's Eve, but we will be ON HOLIDAYS IN AMERICA then, so I think we might do it in the next week. My plan was to string them up in a sort of garland thingy. Seems it's gonna be a little shorter than I thought. Hopefully it will be so much fun that the other lazy bastards in this house will be more excited to do it next year. We shall see.
4.  Check out our teacher gifts. Made by me. Okay, not made by me. Paid by me. Made by Sprinkles, which is a better result for everyone concerned I think. It's always good if the edible gift is, actually edible, I find. They looked so amazing I almost felt like keeping them for myself, just to admire them for a bit longer. If you need something impressive looking for your service providers, or those friends who appreciate the finer things, get yourself over to their Facey account right now.
**Not sponsored, but Clare and Fi HAVE given me free cupcakes before, well they gave them to the children, and I slipped and fell, and they somehow ended up in MY belly.**
5. Christmas STUFF. I'm going to write you a post about some of our Christmas Rituals, coming up soon (I know, we tackle the big issues over here at The Asher's), but it appears I have come to be known as something of a 'Christmas Tragic', a phrase coined by our babysitter. I happily adopt that moniker, and with it comes some perks, one of them being that people now give me Christmas Crap. I cannot tell you how awesome this is! Not only do I get pressies (This week I have ALREADY been given some brain teasing puzzles, mini-fruit cakes and the motherlode of all shortbread) but I also get fantastic STUFF.
Check this out: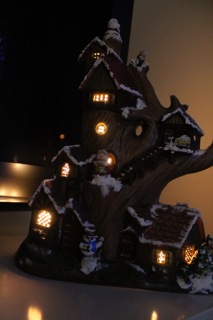 IT'S A HANDMADE LAMP. Made by the people who gave it to me. Have you ever seen anything so cute? The kids adore it. Liam, because he appreciates the work that has gone into it, and Coco because it has tiny people and her chubby little fingers can walk up and down the stairs. (Sorry the pic is a bit dark- I wanted to show you it all lit up.)
And from the same people, this: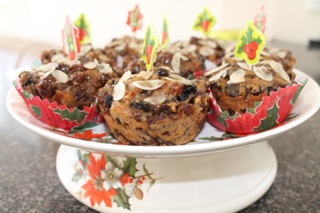 The top part rotates around and PLAYS A BLOODY TUNE. Perfect for the Grisashers.
I may have mentioned we are GOING TO AMERICA, and we have to wear an Ugly Christmas Sweater. Which don't exist in Australia, as far as I can tell. So this week another patient gave me the worst jumper ever. I promise I will model it for you shortly.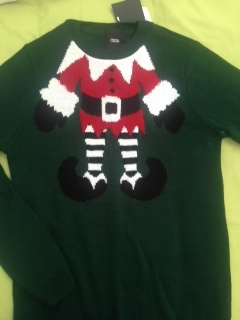 How SHIT am I gonna look, with my tiny head poking out of the top of this bugger? It's PERFECT. Yet, how rude: when Suze gave it to me she said, "It'll be so funny, with your little pinhead. You'll look like a shit little elf." So yeah, it's great that my people treat me with such respect and deference. Nothing like professional boundaries.
So that's it from me: Your turn now. What have you been Hitting on this week?
…From The Ashers