I love Surfers Paradise.
I love the buildings that are trying to reach the clouds, and keep the beach a secret.  I love the lurid pink neon, and the noise of traffic and tension.  I love the seedy bars, and Ripley's Believe It Or Not? and the smell of salt and carbon monoxide mixed together.  I love the tattoos, and the bustling energy, and the women who look twenty-two from behind and sixty-five in the face.
But I don't love the cafes.  And that's okay, because I don't come to the Goldy for fine food and wine, I come for fun, and a taste of something a little wilder, and little bit more edgy than my perfectly arranged seaside town.  I come for a little bit of naughty.
Today I found a little gem that I didn't expect.  Nestled between restaurants in the Soul Sea Temple complex is a special slice of Melbourne-Up-North.  Complete with a roof of tiles that could be from Flinders Street Station and walls of concrete that could be from the City Square, is Cafe Elston.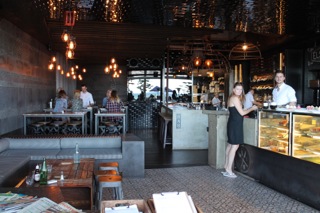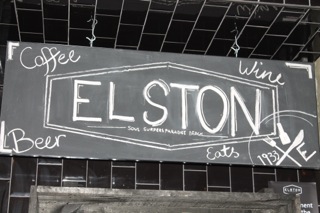 The staff are so pretty they could have been ripped out of an ad for Beat Magazine, with their carefully coiffed hair and beards and freshly inked forearms.  I could have spent most of the afternoon trying to read their cutely colourful body art, but there were Bennys and cheese boards to be eaten, Espresso Martinis to drink, and cupcakes to gorge on.  Even the beer list was something to savour, with ice cold White Rabbit and My Wife's Bitter to slake a karaoke croaky throat.
It was love at first sight when I saw Cafe Elston, which bloomed into true love when I was presented with the delicate blossoms of dishes created by some arty chef in the kitchen.  I suspected they were constructed by a mincy little pixie but when I glimpsed him a couple of times during my extended stay, the incongruous was almost jarring: tattooed and blokey and more at home at a Nirvana concert than making fiddly floral food art.
Thanks Cafe Elston.  You have managed walk a fine line between urban and garden, with surprising prettiness and cheeky Surfers fun.  A playful slice of Paradise that has an attitude I want to hang around with.
Perhaps the Gold Coast is shedding some of her slightly tattered glittery clothes and acting her age.  I like it.
Have you been to the Gold Coast lately?
Where is your fave place to hang out on the Goldy?
…From The Ashers xx