Today I had children with coughs and weather that was foul due to some piss-weak cyclone, so after taking the cat to the vet (as we do DAILY at this stage), this is what we did: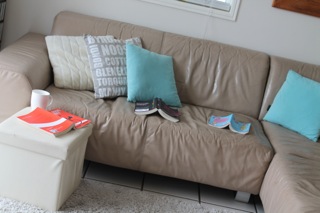 And that is all.
We all loved our books, but I loved mine the most I think.  Mine was The Rosie Project, and if you haven't already read it, then I reckon you should grab yourself a copy.  Especially if you are skating along in life just this side of a diagnosis*, you might find Don an interesting antihero to nod your head along with.
It was a perfect read for a rainy day, and I read it all in a day, which I love to do.  It refines the story and gets you right into their head, I reckon.  Especially when the main voice is a bit of a weirdo.
So if it's raining over Easter in your part of the world, or even if it isn't, grab yourself a copy.  It's a good read.  It might make you see the world (or at least some of the people in it) a bit differently.  And I think that's a good thing for a book to do.
Oh, and Liam was reading the next book in the Anthony Horowitz series about Alex Ryder, which he is totally in love with, and Coco was getting into yet another Go Girl.  We all highly recommend our choices.  Thanks Written Dimension at Noosa Heads for your advice.. Nothing better for book nerds like us going into a shop where people actually care about what you buy.
* I say 'you' and I actually mean 'you' this time.  Not me.  I'm fine.
****No, this is not a sponsored post (sigh) just another great local business in my part of the world****
What are you reading? I need a new book for the break. 
…From The Ashers xx