The adult Ashers acted all cool* and urbane on the weekend and booked in some celebratory time (did I mention it was our ten year wedding anniversary on the weekend?) at The Emporium Hotel, in Brisvegas.
Hold on tight people, there's gonna be a lot of photos here on the blog today, because for most of our experiences there just aren't any words. Plus, I took shit-loads of photos because I had no children and two hands free, and time to do whatever I liked.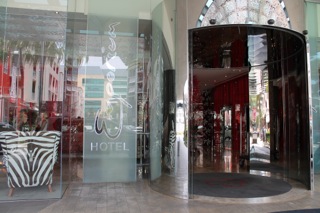 We checked-in, decked out in our decade-old gear, and hardly an eyebrow was raised, such is the way of the ubercool establishment (at least I think that is the way, I'm way too bogan and middle-aged to even know anymore).  We copped a few grins from the dudes bringing our luggage up, but that's probably because they were thinking about how they were only in grade three when we got hitched.  Smug bastards.  They gave us this though: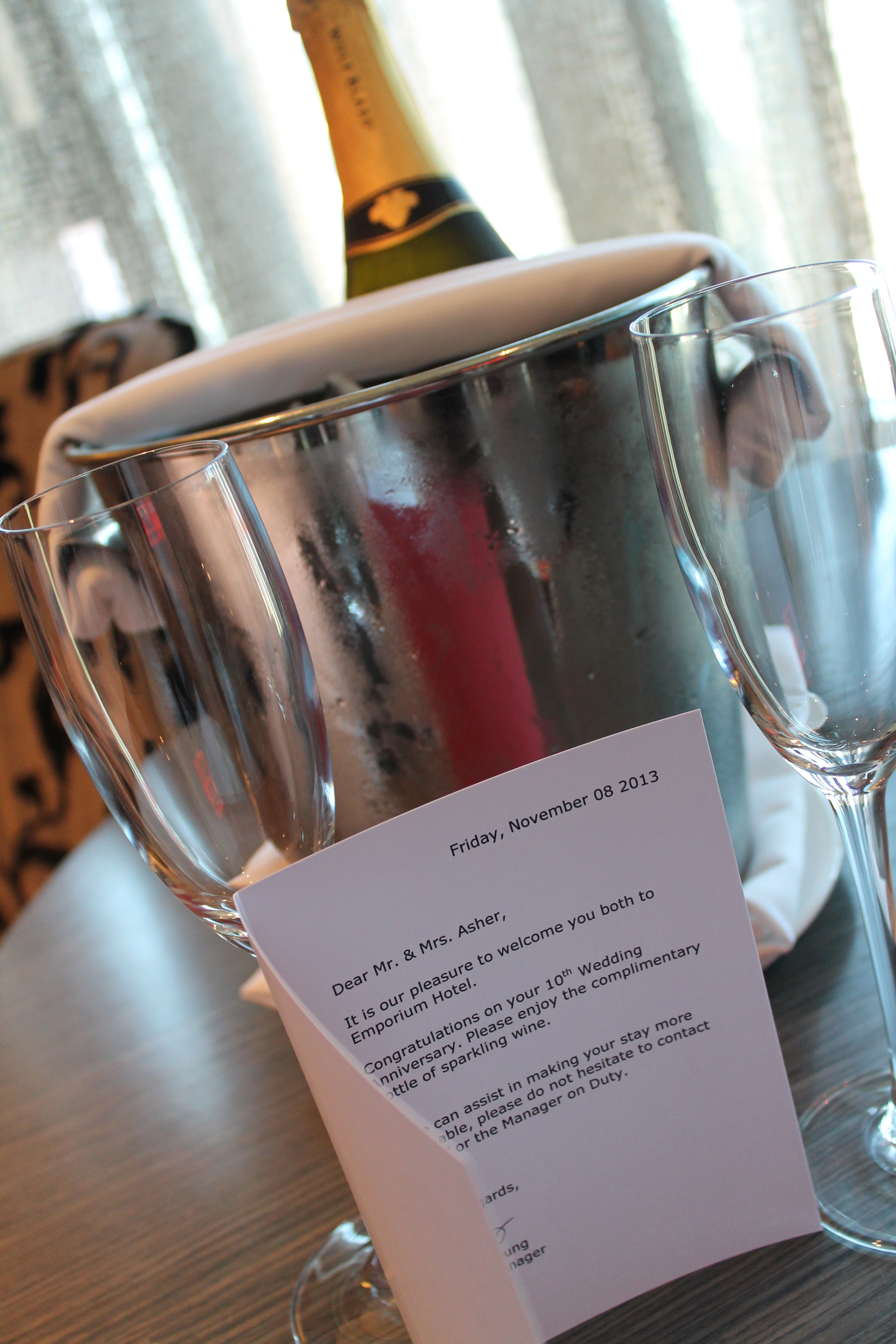 so, they can have their yoof, we had free shit. I swear I shaved ten years off with the first glug.
Next, we lounged about our room because: no kids.  I got into my robe and tooks pics of me.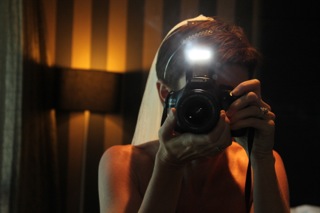 We sat by the pool, drank expensive beer, had a bath, went out for dinner, and had NO TIME FRAME FOR ANY OF IT.  I don't know about anyone else, but I think it's the time-frame thing that I find the most tiring, here in Motherland.  It's the relentless tick-tick-tick of the imaginary clock that is with me, always.  Counting down the minutes until the next thing I've just gotta do.  Appointments, sporting events, dinner, deadlines and dates. Things to do, things to be checked off.  All the crappy boring things that will just bloody-well need to get done again tomorrow.  It's relentless, and it wears me down some days.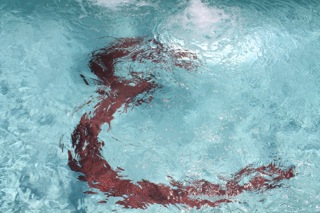 So The Emporium was like a little Utopian world, where the clocks don't work and no one ever has to leave.. Or maybe that's the Overlook Hotel I'm thinking of (I am reading the sequel to The Shining** right now).
Or Jupiters.
Overlook or Emporium, it doesn't matter, the demands on me were minimal and the rewards great.
Leesa organised these little beauties:
And when we got back to our room after dinner it looked like this:
with Tina Turner's "What's Love Got To Do With It" blaring over the Bose speakers.  We pissed ourselves.  Take a minute to listen. It's not really a luurve song…
Anyway, back to me.  I might have done this: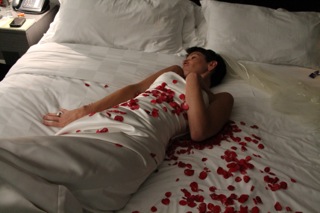 We got free drinks at Nant Whiskey Bar and free dessert at Tartufo. (Which by the way were both a-maz-ing. I want to say "sublime", have always wanted to say sublime about a meal, but can I really do that without being a wanker?  Anyway, our dinner was magnificent, and if it wasn't so unseemly for a 'bride' to lick the plate I would have done***.  Simmo at Nant was funny and full of info about Whiskey. Still, I had a cocktail, because Whiskey, even fancy Whiskey=Metho in my book. Sorry Nant.)  So I guess you could say this wedding dress caper really paid off.
Bye, bye Emporium, I'm not too cool to say it: you rocked.
Next weekend I think we shall frock up and have our ten year anniversary in another suburb, because: free shit!
* Is cool still a word? I'm too old and lazy to ask a teen.
** It's caked Doctor Sleep, get ONTO it people.
*** Actually DID, but you're not surprised by that are you?
**** This is not a sponsored post, but by golly, if any of you dudes want a proper post, all glowing and stuff, I'd be happy to do one… (For free shit of course…)****