The Event:
On the weekend I went out with the school mums.
I know, groan.
Sorry school mums, it's not you, it's me.  Really.  I'm just not good at all of the things that are involved in a School Mums' Night Out.  The chit-chat, the making of new friends, the not getting too drunk, the dancing.  All things that I'm rubbish at.  I'm good at watching footy, and beers, and parmas and burping.  Don't get me wrong, I'm not a complete feral (hush now those of you who know me well), but I prefer a belch and a belly laugh to a daiquiri and a dance.
However, a Mums' night out it was, so I embraced my inner Mum and went for it.
Here are the things that happened:
These shoes were purchased for $7.50 from Williams at Noosa Civic on Wednesday.  I shit you not.  SEVEN FIFTY!  I was in the shop looking for something else (some black hooker-heels that are so now for an entirely different function, if you must know), when the salesgirl handed me these.  How could I not?
So of course an outfit had to be designed around them.  Lucky for me, all the Styling You blogs I've been devouring over the last year paid off, and I converted my over-bathers-kaftan-thingy into a dress by adding a white slip underneath, and a necklace.  Genius.  And very "Newsa" if I do say so myself.
Luckily, this also happened:
I had the sense to take these babies with me, because: foot agony, when some zealous chick took the lyric to Jump Around literally and jumped on my foot.  And yes, it was a house of pain (See what I did there?).
Can you see the bruising?  I can, but maybe I'm a bit of a hypochondriac sensitive.
Surprisingly, I had a really good time.  I found out who the naughty mummies are, and had fun on the dance floor, despite the music, my attire (a kaftan is not your friend on the dance-floor, at least not with my kind of moves), the relative youth of the other things on the dance-floor, and yes, despite myself.
The Aftermath:
It may of transpired that one of our number made friends with a group of young Hens (chicks really- they looked all of eighteen), and that Mum may have executed some pretty funky moves with the Hens.  As a reward for her efforts, she may have then presented me with Exhibit A (pictured below) that was gifted to her.  I may have performed a lewd gesture upon the gift, and then placed it, erect, in a stubby on the dance-floor (which was fast becoming a strip joint) for another mummy to perform and even more agile move upon it.
Eventually, this cute little thing was bestowed upon me, and I popped it in my handbag.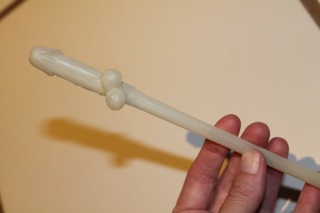 Because you never know when a penis straw may come in handy.
I can tell you when it won't come in handy though.  It won't come in handy when you are at the school drop-off and your seven year old reaches into your handbag, like a magician into a hat, and pulls out that straw, holds it aloft and yells, "What's this for Mummy?".
With the principal's wife standing right next to you.  The principal's wife who is lovely and charming and nice, but who wasn't one of the Mums dancing to 'Push It' at 11pm.
Or fellating a straw.
So don't be surprised if neither of our kids get to be prefects.
How about you, had any girls' nights out lately?  Or penis straw action?
…From The Ashers
***This is not a sponsored post- either for Willams or my chiropractor Rosemary, but I'm happy to get free stuff from either of you..***