As you may know, I sometimes play a bit of Flash Fiction over on Anna Spargo Ryan's blog.  Here's my latest, in response to the prompt: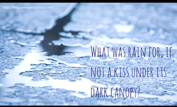 The rain spattering on the half-moon of the canvas beat out a groove that was like a blogger starting a new post- beginning slowly, then increasing in speed and intensity as she found her rhythm, then being joined by eight then thirty-two then hundreds of bloggers, all trying to get their posts published first.
He listened to the warm puffs of the children's breathing among the breaks in typing, as the rain ebbed and then grew and then ebbed.  They always loved listening to their children make their tiny snuffles.
He composed the sentence in his head first before trying it out in the air.  It sounded good, so he let it mix with oxygen.  Turning on his side he said, "What was rain for, if not a kiss under its dark canopy?"
He knew she would laugh and say, "Wanker" as she always did with his poetry.  And then they would kiss and kiss with mouths turning up at the corners as they laughed at him a little, but mostly just laughed together.  He always knew how to make her laugh.  And she always knew how to laugh.
He reached over to touch the warm edge of her smiling mouth with his thumb, to feel her smile as well as hear it, as he said again, "What was rain for, if not a kiss under its dark canopy?"
His hand fell into dense darkness and cold.
She was not there to call him a wanker.  The rain was for his heart.