Here are the hits of the week:
1.  This funny thing, by @emrusciano on Instagram.  I don't really know why I'm laughing so much at it.  I mean, I know it's a joke and all, but it's not really that funny.. Is it?  But there's just something funny in the way the tree is 'running'.  Or maybe it's just that someone took the time to make and post that pic.  Either way, it has given me lots of giggles.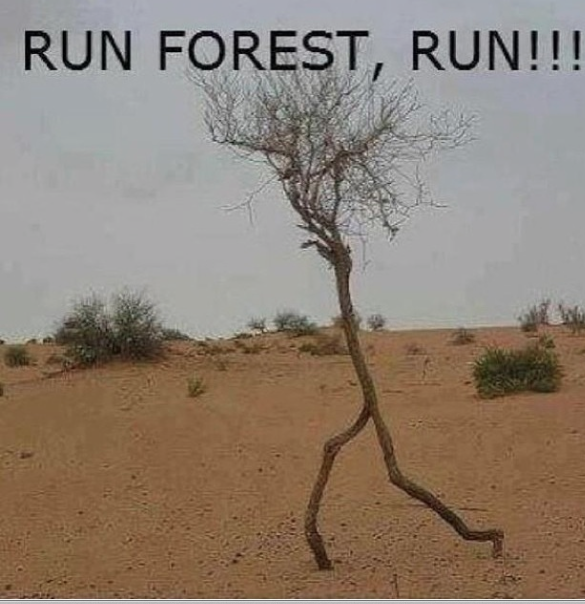 2.  The feedback I've had from the dreaded presentation last week.  People have been lovely and kind.  Some said they laughed and some said they cried.  So I guess I achieved my goal of moving people in some way.  You know how I am, I love to make y'all emote and shit.
3.  Yoga stretches.  Also from my seminar: one of the chiros had some very concerning x-rays of young people with very ordinary spines, such that we have never seen before in people so young.  I suspect this brave new world of devices has a lot to do with it.  So The Ashers have decided we are doing something about OUR spines before it is too late.  We are calling our morning practice Spine Tingles, and it's a mix of yoga and gentle stretches, with a bit of dancing around thrown in, and finishing with an affirmation or two.  One Evil Genius is into it, and sets up the mats at 6.15am, the other CBF, but he has to do it regardless.  It's the new tooth brushing around here.  Not negotiable.  And I've gotta say, I feel better for it.  More connected with my body or the sense of myself in space.  Shame I nearly tore a hammy trying to outdo the kids in the forward bending.  Stupid old contracted body.
4.  Finally getting my friend back.  Travel is a dumb idea.  Anyone who is thinking of leaving me to look at other places: just don't okay?  It's unnecessary.  There's Google maps or something for that.  Anyway, I got my friend back, you know one of those ones who lets up parp on about ridiculous things, and then buys you a coffee anyway?  Yep, that one.  Welcome back, luv.  And don't get any more silly ideas okay?
5.  An interesting side-effect of doing 'that shit talk' was that I got to stay in Briso for the night, just hanging out with my Mum.  She had a magnificent dinner ready for me, heater on, fancy wine all chilled… Just perfect.  We chatted on the couch for hours, with no kids and no snoring "I'm not asleep" male adult (I'm not naming anyone) to interrupt us.  We then woke up according to our body clocks, and sauntered down to the local cafe for a relaxed breakfast.  Wall to wall luxury: no clocks, no whinging, no work to be done by us: no worries.  I'm blessed to have such a cool Mum (with a cool pad in Briso to crash at), who is funny and caring with a bit of naughty thrown in.
**I'm also aware that I have a pretty good husband (snoring on couches notwithstanding) who willingly looks after the kids all weekend without complaint, including Netball, food shopping, present buying and kid's birthday parties to attend. xx
What are your hits?  Did you have a nice glass of vino on Saturday too?
…From The Ashers xx