If you are a RR you would know one of the Geniuses wasn't quite so evil this weekend just gone, and he planned and presided over a Golden Garage Sale, to raise money for charity. He did well.
Then today, as a result of that, something wonderful happened.
Liam received something in the mail from a beautiful lady who knew about the garage sale via my Facebook Super-Spamming on Sunday. She took the time out of her day to write Liam a lovely letter, and to make a donation to his cause. When he read it, he did a little fist pump. When I read it, I got all teary.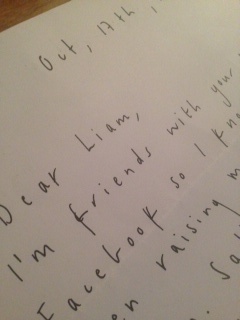 I tend to get a bit emotional about lots of things these days. I blame The Menopause, rather than admitting that I could be going a bit soft. But this action really touched my heart.
And it got me to thinking about how it is relatively easy to perform and act of kindness, and to change someone's day. Liam is taking what he calls "the full-on letter" to school tomorrow to show his teacher, and then he wants it put in his memory box. I can tell by the way he proudly read it out to me that he has started to see himself in the way she described him. He is considering himself to be the type of guy who does good, who makes the world better. Psychologists have a term for it: The Pygmalian Effect. I have a term for it: A Bloody Grouse Way To Build A Kid's Self Esteem.
So this letter? It changed Liam's day today. But who knows what it has done to change his perceptions of himself in all of the tomorrows.
BJ Palmer once said, "We never know how far reaching something we may think, say, or do today will affect the lives of millions tomorrow." Who knows what these little charges we have inherited will become; pilots, plumbers, painters, publicans, politicians? Regardless of what, experiences like these will define who. And most likely how.
I appreciate you, lovely lady.
What can you do to change a kid's life for the better?
Or an adult, for that matter?
…From The Ashers