Here are the hits of the week…
1.  Booking tix to go to the US for Christmas. This it the first Chrissy we will all have together since my Dad was crook, and almost gone. It was lucky thing to have us all together like that, but it was a horrid time. Watching him deteriorate day by day by day. This time there will be no impending death. Just laughs and bad Christmas sweaters. Bittersweet times. Bitter and Sweet. In equal measure.
2.  The big fuck-off bowls of pasta Nath has ready for me after I finish my late nights at work. They're bloody big and bloody good. Just what the Doctor ordered. Thanks Nato. You rock.
3.  These grouse new cushions from Alisa of Plump Homewares. Not only has she donated a shitload of fabric for my Softie Sew-a-thon Wednesday (7-9pm at Noosa Christian Outreach centre if you are a local), but she gifted me two of these cushions today. What a legend. How fresh are they? You can visit her at Eumundi Markets every Wednesday and Saturday, or shop online here. She has a brand new range coming out this Saturday- go check it out.  *Not a sponsored post, but she did give me these cushions for nix. (She meant them as a gift, not as a blog post.)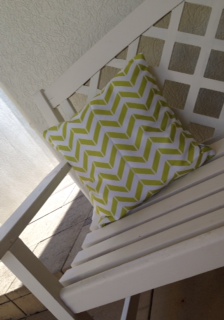 4.  The hottest weekend in the world (well in my part of the world anyway) scheduled for Friday and Saturday. I'll be spending a fair bit of it safetly ensconced in this seat, looking at this. Hopefully with a couple of small people, and one big one in the pic too. Weekend,  you're looking good from here….
5.  A special delivery I got from Uberkate this week. I can't tell you much more just yet, as it's a surprise, but let me tell you the lady doesn't disappoint. Thanks Kate, and thanks BabyMac. May lovely things come your way. You are both such beautiful people. I'm grateful for you. And I promise pics will be posted once the cat is out of the bag.
**This is not a sponsored post either; I won a competition. But I do want to share that I saw on Uberkate's website that if you spend 250 smackers you get a free ring. Good incentive for a Chrissy gift with some meaning, I reckon. Love your work Kate.
So what were your hits of the week? Do you have plans for Christmas yet?
…From The Ashers