Hitwave Alison
Here's the hits…
1.  Anticipation of All Things ANZAC.  I don't know about you, but I find this a very emotional day.  I can easily find myself crying, watching the march: the soldiers in years gone by, and now the children, who march to uphold the tradition pass me by.  Everything from the eerie first bars of the bugle, to the remembrance, to the gratitude of a day off filled with sunshine, and ANZAC biscuits and meat pies and a gutsy and traditional match of footy.  More than Australia Day, which for me has morphed into something strange over the years, ANZAC Day is one of appreciation and a strange mix of celebration of the life we have mixed with indebtedness to those who went before us.
2.  These books: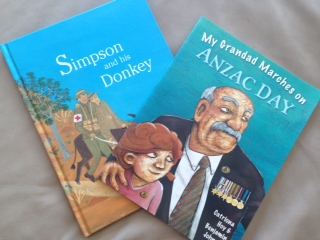 They might be for kids, but they make me cry every.single.time.
3.  SYTYCD.  I don't care, say what you want about the show: criticise Carrie's hair and Paula's dress sense if you like, but these dancers are bloody awesome. I know, I know, you're probably thinking that I'm awesome myself, what with my Solid Gold Dancer moves from the 80s, and my white man's overbite, mixed with a good bit of Salt n Pepper's 'Push It' style, but I got nuthin' on these guys.
4.  These super-cute CR boots that the generous E.Bunny bought for Coco in lieu of choccies.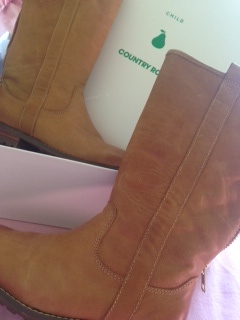 They might be kinda up there in the price stakes I guess, but if you have a kid who simply won't wear jeans in winter, they are a pretty cool option to pair with skirts, leggings and the like.  In fact, they will probably save us a fortune this Winter, as her Summer clothes can be worn with these and a cardi, for the pissy little 2 month Queensland cold snap we have here.  Well played Easter Bunny, you fashionista.
5.  Cadbury Chocolate Caramel Eggs.  That is all.
Hit me with your hits.. What did you love this week?
…From The Ashers xx