What Does Your Heart Say?
I did a talk this weekend at a seminar.. I won't bore you with the whole thing, but here is the last bit.  As you RRs will know, there's been a bit of Sex Ed going on around at The Asher's lately, so I used quotes from "Where Did I Come From?" to punctuate my talk like an English essay.  I also handed out tiny mirrors at the start, so you'll have to improv.
Here goes:
So far the master heart is this one: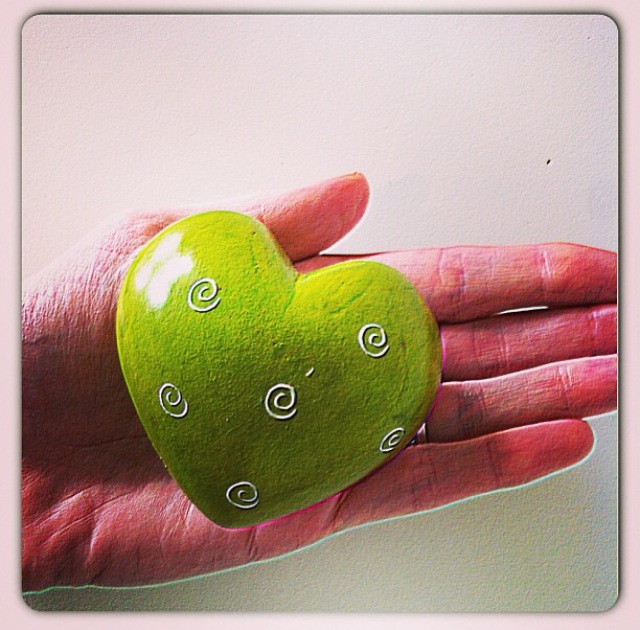 My friend Rose got it for me, and it's carved from sandstone by kids in Africa who were previously sent down into the mines.  So maybe, buying these rocks saves lives. Or makes lives better.
Either way, it has become a bit of a touchstone in the office.  Every child wants to touch it, and hold it, and we say that if we wish for our heart's true desire when we hold it, our wish will come true.  Eventually.
It's fun to hear what the children wish for.  I remember their wishes, and I love seeing how those wishes change over time.  Some kids keep at the same wish until they get it, and some, of course, chop and change all over the place.  I'm interested to see how that will play out, in the adults they become.
If there wasn't so many of you here I'd love to pass my wishing heart around the room.  To let each of you hold it for a moment, and say out loud your secret wish.  The thing that you would have, or do, or be, if you could remove the limits of your mind.
Do you know what your heart's true desire is?
Does your heart softly whisper something to you in the middle of the night?
Can you see something, just over there, at the edge of your peripheral vision that you'd really love to do?
Is it possible to let that little thing grow a little, gather some momentum, and maybe even become a thing?
Could you tell me what it is?
Or could you tell my heart?  Because if we spoke together, your heart and mine, I think they could make it happen.
"Where Did I Come From?" can have the last words. Pick up your little mirror and look at those eyes.
"You may think it sounds like a lot of hard work, for such a little person.  But there's a very good reason why we should go through it all, this Journey.  And if you want to know what that reason is, just take a look in the mirror.
It is all for you."