Do you remember that show? With Norm and the other guy sitting at the bar? I can't remember the other guy's name right now, and I know that's not right, because Cheers was all about having a place where "everybody knows your name". Anyway, if you know Cheers, then you are screaming the Other Guy's name out right now. (I'm pretty sure he was in Toy Story as well. Just call me IMBD.)
Moving on. I have had a couple of places like that in my life. And like my list of friends, I guard them closely. I don't have too many (I don't like to spread myself thin), and I choose them carefully. The Morning Star Hotel in Willi was one. Taco Bill's in Clifton Hill another. I'd like to say Cocktails and Dreams on The Goldy as well, but I think that was more about NOT welcoming me in (another bar, another life). These days it's Village Bicycle and Bistro C. And here.
The first two are by choice. The third, not so much.
And yet when we arrived here today, at a place that I don't want to come to, to do a thing that I don't like doing, I realised that this place is a part of me and I am a part of it. I have a favourite room (27), a favourite carpark area (mezzanine, part e, because: Me… I can always remember where I've parked), and even a favourite mug in the parents' room.
Smiling nurses greeted us by name and made a fuss of the kid as if she was Suri Cruise. Doctors who I'm now on patient advocate boards with, popped in for a chat. Other trainee doctors came in to feel the kid's excellent hepatosplenomegaly and marvel and the lowness of her haemoglobin (everyone's gotta have a talent, right?). We feel comfortable enough to put our faces right in close to the camera at the entry, and make stupid faces to make Margie on the front desk laugh. We know the order of things, and we are close enough with the guy at Merlo to raise our eyebrows in conciliation when the idiots don't understand the discount system for bringing their own cup. We never say a word to each other, Merlo Guy and I, our wiggling brows say it all. Today he was almost a seagull, as he step-by-excruciating-step explained the difference between cup sizes (why are they in ounces?) and the store pricing policy to an irate lady dressed in KT-26ers and leggings-as-pants, who was arguing over 30cents and her card being declined. Usually I would've just said to pop it on my order, but it would've felt like a betrayal to Merlo Guy, and us stalwarts have to stick together in here.
In here.
A funny thing happens to the kid when we get in here. I try to speak in the language of hospitality instead of hospitals. I call it "checking in", and we run to the bathroom to see if we are getting L-Occitane toiletries (we aren't). We look at the "room service" menu, and talk about how yummy the Mango Chicken will be (it isn't). And yet, still, she becomes a 'patient'. She lays in the bed all day, even though she could easily sit on the couch with me, and is as quiet and compliant as a lamb. It's like the institution does something to her, as it does to me. She goes docile, I go to war.
Today I decided to play it a little different. I made a decision to treat this funny, mushy-pea walled place as my Cheers. I chose to see Margie as Sam Malone, and Penny as Diane Chambers. Kevin was Norm, and Stu was the Other Guy. (I tried not to call anyone Carla, but my brain accidentally might have. I told it to hush now, we don't have to be that mean.)
In some weird way, after so much stretched-out time together, this soft, speckled lino and the sweet-prickly smell of chlorhexidine has gotten into my nostrils and into my being. I didn't choose it, wouldn't have chosen it in a million years, and yet here we are. If I love my life (and I do) and I love my kid (and I mostly do, can I be "barley" during tantrums?) then I must also love the experiences and the laughcries and the learning I have done in this place. It has tested me more than any other location (yes, even more than the Cricketer's Arms in 1992, may I never get a stomach bug like that again), and it has shown me more about myself than I ever thought I wanted to know. I've had some of my biggest moments here, both fair and foul.
And so now, just like the blankets. A part of me is the property of Queensland Health.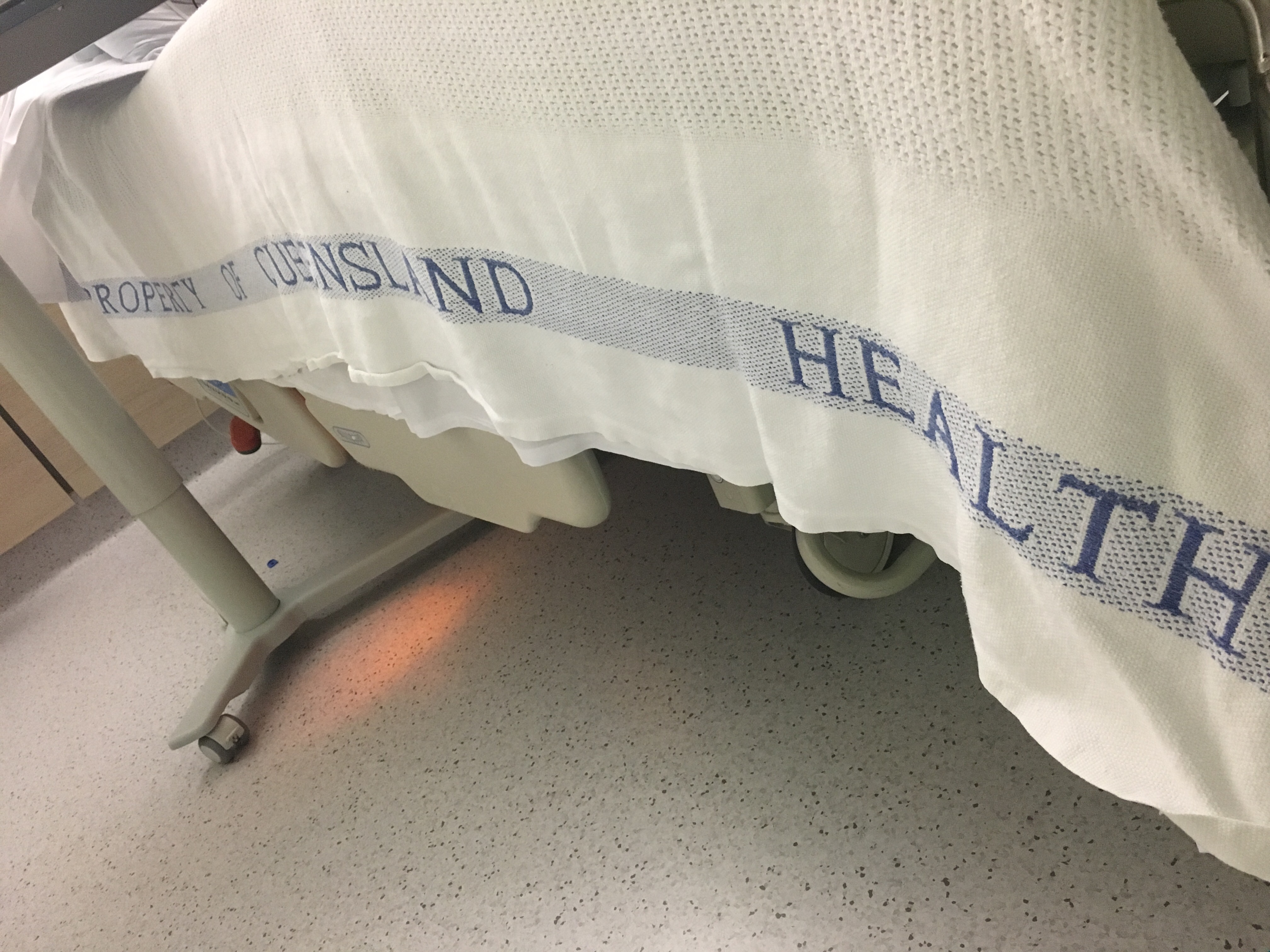 Cheers.