Hitwave Alison
Hi everyone… Well you know what time of the week it is: time for the Hits…
1.  The last day of school!  Hooray.  I'm saying that now, because I think we all know that by this time next week this very first Hit might be the reason why the Friday blog will be re-named Shitwave Alison.  But for now, I'm excited… Today is the Easter Festival of Fun at school, which will be followed closely by the Noosa Carnival of Crying, as Coco gets her blood taken ready for cross-matching and a transfusion next week.  (Happy holidays Kid: here you go, have some needles and a stay in hospital.)
2. On the back of that whinge, of course a massive hit for us is BLOOD DONORS.  You guys rock.  You do it even though you don't have to.  You do it even though you'd probably rather not.  And in your doing it, you keep my kid alive.  So thank you.  More than I can ever say or repay.
If you don't already donate, or if you haven't done so in a while, you can check out your eligibility online here, or call 13 95 96
3.  The best chocolate shop going around…Chocl'arte.  It's at the Harbour at Tewantin and the ladies there are unreal.  They made me up packs for the teachers with an Easter Theme.  (I'm such a doofus I forgot to take pics of them all before we gave them out, but here's the one for Liam's drum teacher.)
If you are a Noosonian, pop in and have a squiz.  That Harbour is a great spot to have a cuppa and a little gifty-style shop.  Just beautiful in the morning, with the added bonus of an ALL WHITE shop.  If only we didn't have two little dirtbags living here…(and then we have the kids too..)
4.  This sign: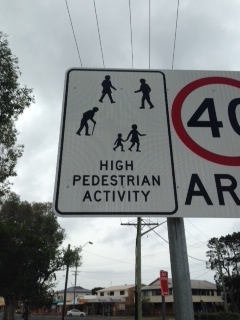 This week has been a bit full on, with the impending sense of doom transfusion, so sometimes it's good to have things in your inbox or your camera roll, that make you smile.  I took this pic on holiday at Evans Head, where I said Bon Voyage to my buddy who is off on a "trip around".  I don't know when she'll be back, (hopefully only a year), and bittersweet as it was, we had a ripper of a time, and even managed a bit of Veuve to split up in style.  Anyway, seeing all of those high pedestrians makes me laugh.  Good times.
5.  One of my Interweb mates, Eden.  I love her and I love her beautiful, honest writing.  She has had some bumps lately, but it sounds like she is getting some of her mojo back.  Anyway, I'm advertising on her blog this month, so hopefully some of you are reading this due to that.  If you are, welcome!  Kick off your shoes and stay a while….
And to my RRs, if you aren't already an Edenophile, pop over to Edenland and have yourself an experience of beautiful writing.  Take tissues.
So that's it… Happy Weekend everyone… 
What are YOUR hits?  Don't be shy…
…From The Ashers xx
***As usual, a boring disclaimer… This is not a sponsored post… No chocolate was harmed or given as a freebie in the making of this post.  WHEN? WHEN WILL I GET FREE SHIT?